What New Entrepreneurs Should Know About Intellectual Property
What New Entrepreneurs Should Know About Intellectual Property
By Hunter Amato — Guest Writer, Inland Empire Business Journal
Delving into the world of entrepreneurship can be a daunting task. The independence and freedom that entrepreneurship offers open up significant opportunities that cannot be found in a more standard workplace, but with more independence comes more responsibility. As an independent business, it is crucial to sort out the important legal aspects that companies have to deal with on a regular basis. Intellectual property law definitely falls into that category: complex, scary to some, but absolutely vital for entrepreneurs. Here, we break down some intellectual property basics, and how they affect you as a new entrepreneur.
Intellectual Property; What is it?
According to the World Intellectual Property Organization: "Intellectual property (IP) refers to creations of the mind, such as inventions; literary and artistic works; designs; and symbols, names and images used in commerce." Obviously, "creations of the mind" is an extremely broad term, but IP law is actually a very broad field by necessity. As we will cover later, there are many different categories of IP that require different types of protections.
Physical property laws are pretty straightforward. If someone steals physical property, the victim suffers a loss and can claim damages. Intellectual property, on the other hand, is more complex. Theft of intellectual property doesn't necessarily mean that the victim loses what they have. If someone steals your logo design, you still maintain possession of it.
In this case, however, intellectual property theft lessens the value of what you already have. Duplicate logos on the market can confuse customers and lead to brand incoherence. Copyright infringement can undercut the licensing profits of a creative artist. Stolen inventions undermine the research and development payoff of entrepreneurs, driving down incentives via competition.
IP violations can often be hard to prove as well. Most legal frameworks for protecting intellectual property require thorough documentation and disclosures of the work done since it is impossible to determine legally when someone had a mental breakthrough or initially thought of a concept. Even the boundaries between improving upon an existing invention and violating a previous patent can be hazy.
In the entrepreneurial field, intellectual property is one of the most valuable assets of any company. Startups exist because someone at the helm created or invented something useful and wants to manifest it into the market. Good ideas are what separate good companies from bad ones, and so it's crucial to incentivize those ideas and protect them. That is where IP law and IP protections come in.

IP Law Categories
A broad range of intellectual property requires a broad range of IP laws. Let's take a look at the four main categories of intellectual property in the United States: copyrights, patents, trademarks, and trade secrets.
A copyright grants protection to creative works of the mind. This can include writing, music, paintings, and other creative endeavors. Copyrights last for a long time—70 years after the death of the holder—and allow litigation in cases of infringement. This also enables the copyright holder to license their work for use by others and collect a royalty. Of course, fair use exceptions enable the use of copyright material for some not-for-profit purposes, including education.
Patents are the most significant category for new entrepreneurs. A patent allows a company to be the sole producer and seller of a specific invention or process for up to 20 years. This essentially grants a monopoly during that time span. Patents are crucial for entrepreneurs and inventors because they enable a realistic timeline for production and development, and ensure a good chance at a profit once the product is brought to market. Without patent protection, small businesses might never make any returns on their investment and are at risk for predatory companies copying them and even beating them to market.
Trademarks serve as brand identifiers. Trademarks can encompass features such as logos, brand names, slogans, and even jingles. Registered trademarks are required for any branding disputes across state lines, and given modern reliance on e-commerce, that applies to almost all businesses today.
Finally, trade secrets, as their name might suggest, encompass confidential information that aids in the competitive market success of a company. From supplier lists to secret recipes to drug testing protocols, these trade secrets can all be strengthened legally under IP law if there has been a reasonable effort made to ensure their secrecy (via confidentiality agreements and the like).
Entrepreneurship and IP
Much of what makes IP law important is directly applicable to entrepreneurship. New entrepreneurs should be well aware of how IP can help and hurt their business.
In today's market, brand identity and name ID is more crucial than ever for capturing consumer attention and loyalty. Online reviews and ratings are a prominent part of e-commerce that develop consumer brand association. This is why trademarks are vital for new entrepreneurs; a good brand name and logo, without confusing imitators, can go a long way in leading to the success of that brand. Head to the official government page for trademark info and application instructions for your next steps.
As an entrepreneur, make sure to identify which of your internal mechanisms may count as trade secrets. This means examining what information or methods provide a benefit specifically by remaining secret. Then, implement confidentiality agreements and contract clauses to legally ensure that they stay that way. This enables recourse under intellectual property law later on if trade secrets are divulged by employees or stolen by competitors.
Entrepreneurs who develop any of their own public creative work should review the copyright protections and licensing opportunities available to them. U.S. law applies the principles of copyright to any creative work that is manifested in recording or release, but possessing a copyright filed with the U.S. Copyright Office can grant much better recourse and IP protection in the legal system. Of course, every business should be very aware that it is not itself infringing upon the copyrights of others and risking penalties.
Out of all the IP law types, patents are by far the most significant for entrepreneurs. Since many entrepreneurial ventures are based around inventing something new or making a substantial improvement upon an existing process, patenting should be a primary goal quite often.
The United States Patent and Trademark Office outlines the requirements that should be met in order to be eligible for patenting, which are extensive. One eligibility requirement is being sufficient novel, or unique and new. In order to determine this, a very thorough patent search is necessary. A patent search can illuminate both whether your idea is indeed new, and what that niche in the market looks like (if it is heavily saturated with related patents, for instance).
Processes and production methods can also be patented, as can nonfunctional design and aesthetic elements. This enables companies to protect their novel contributions to a preexisting market where a patent may have expired. 
According to J.D. Houvener of Bold Patents Chicago, many entrepreneurs are at risk for missing deadlines or waiting too long to get sufficiently informed about IP options. "The same go-it-alone attitude that makes many entrepreneurs successful can also lead to overlooking of key things like the one-year patent filing deadline from the first disclosure or offer to sell an invention," says Houvener.
In Summary
As a new entrepreneur, you are most likely juggling hundreds of responsibilities trying to run or start a business. Intellectual property might seem like something to put off until later, and can be daunting at first glance. However, IP law can be crucial to the success of any new venture.
Entrepreneurs are valuable because of their intellectual contributions to projects, and those contributions can be governed and protected by IP protections as outlined in this article. Copyrights, trademarks, trade secrets, and patents all have their place in any new business, and many should be implemented as soon as possible.
Make sure to consult a qualified legal expert to see whether your company might be ripe for a patent or copyright. A patent attorney or law firm can point you in the right direction and potentially influence the way you approach your business strategy.
For more like this, head to our blog!
Hunter Amato is a content contributor for the Inland Empire Business Journal. Email: hunteramato1995@gmail.com
Colton Resident Receives Free College Tuition and Books Through Walmart's Education Program
By Saul Martinez, Contributing Writer for IEBJ
#bizzbuzz
This year marks the five-year anniversary of Walmart's Live Better U (LBU) education program. Over the past five years, the company has saved associates across the country nearly half a billion in education costs, reflecting the company's commitment to creating a path for everyone to learn and grow. In California, we've seen 5,620 Walmart and Sam's Club associates participate in Live Better U over the past five years.
One such success story is Robert Gay, who lives in Colton, CA, and earned his college degree – fully paid for by Walmart. Robert was stuck in a stagnant position at his previous company, hindered by the absence of a degree that prevented him from advancing further. However, upon discovering the Live Better U benefits offered by Walmart, he decided to take a leap of faith and join their team with the intention of completing his degree. After successfully graduating with a bachelor's degree in October 2020, he now takes immense pride in his accomplishment of accepting a promotion to associate general manager. Throughout his journey, Robert received overwhelming support from his local team, who not only empathized with his workload challenges but also aided when needed.
Most individuals typically encounter Walmart through its retail outlets. The Inland Empire Business Journal had the opportunity to explore a consolidation center of Walmart situated in Colton, California. Our visit left us deeply impressed by the remarkable cleanliness and impeccable condition of the facility, almost reminiscent of a high-end showroom.
While on the tour, we observed the diligent measures taken by the leadership to maintain employee motivation and awareness regarding the daily, weekly, and monthly performance Key Performance Indicators (KPIs) of the facility. These KPIs were prominently displayed on digital monitors throughout the premises. The Colton leadership created a mascot and call their team the Colton Eagles.
We found ourselves deeply impressed by this aspect of Walmart, which is often hidden from public view. Walmart unquestionably stands out as a company that not only offers excellent career opportunities but also boasts a remarkable 100% tuition reimbursement program. If you are seeking a career in the Inland Empire, this proves to be an exceptional workplace choice.

Whether someone is chasing their first job or the opportunity that will define their career, Walmart is committed to creating pathways of opportunity for everyone.  

The Recession That Didn't Happen… And Why Most Forecasters Got It Wrong
In arguing that there will be no near-term recession, Beacon Economics has been an outlier in the forecasting community.
Much to the chagrin of those who have been predicting otherwise, the U.S. economy has stubbornly continued to grow—and 2023 is shaping up to be a better year than 2022. Beacon Economics has argued all along that there is little reason to think we are heading for a near-term recession (outside of our worries about the potential impact of Fed policy). It seems as if our optimism is starting to spread. The Economist recently published an article titled Could America's Economy Escape Recession?, the latest Wall Street Journal recession probability survey (which we contribute to) shows that economists' expectations of a recession are starting to fade, and Bank of America became the first major forecast group to retract their recession call.
Beacon Economics recession probability rose only slightly in 2022, and our current estimate of a recession occurring in the next 12 months is at 5%, making us an outlier in the forecast community (take a look at the Journal's survey and you'll see what we mean). This isn't to say that we don't recognize signs of stress in the economy driven by higher interest rates and the recent bout of inflation. Rather, we've never viewed these issues as rising to the level of being systemic given that they were caused by the same thing that has kept consumer spending supercharged—the excessive stimulus thrown at the economy during the pandemic.
The greatest risk, as we have seen it, was always the undue tightening by the Federal Reserve, which was implemented in response their original sin of excessive loosening. But the nation has fared even better throughout the large interest rate increases than we thought it would. Now, with inflation cooling, the Fed seems likely to slow their credit tightening efforts, so even this concern is fading.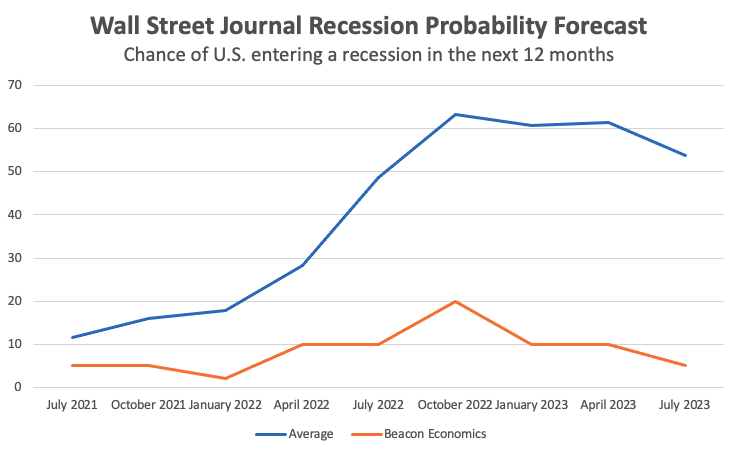 Admittedly, it is affirming to see our optimism playing out in the trends. But what should we make of this big miss by the broader forecasting community? Paul Krugman, in a recent New York Times column, had one answer—forecasters (at least in the aggregate) just aren't very good at forecasting recessions. He notes that studies of the history of recession predictions show the forecasting community to be remarkably inaccurate—calling for recessions when they don't occur, and largely failing to predict them when they do. So much for the wisdom of the crowds. But what Krugman never addresses is the 'why'. Are forecasters just dumb? As John Kenneth Galbraith famously quipped "[t]he only function of economic forecasting is to make astrology look respectable." Or is there something else going on?
It might seem surprising that forecasters haven't learned how to predict recessions better, given the technical tools that have been developed over the past 50 years. The first macroeconomic computer model was built by U-Penn's WEFA group back in the early 1970's, winning the group's leader, Lawrence Klein, a Nobel Prize. Today's economists have far more computing power at their disposal, not to mention a broader set of quality data to play with. Yet, in the aggregate, forecasters still seem unable to see the arrival of the economic tempest until it is already upon us.
The issue with these big macro models is that they are primarily designed to calculate economic trends on the basis of a complex statistical estimate of covariances found within the historical data. Such models rely on each expansion being similar enough to the previous one that these covariances remain relevant. However, recessions are—by definition—a period when the economy deviates substantially from trend. As such, these sorts of forecast models simply don't have the capacity to predict a recession, unless the forecaster specifically programs it in.
Those seeking to predict oncoming recessions often look for other sets of statistical leading indicators that can foretell when such a break from the trend could occur. In short, they look for historic patterns of data that seem to correlate with oncoming recessions. As it turns out, there are very few of these kinds of guideposts in the data—something that does not surprise us as we'll explain in a moment. The one data point that does highly correlate with future recessions—and the one that is surely behind the so-far incorrect call of recession by the forecasting community at large—is the inverted yield curve (The yield curve is the difference between short and long run interest rates. In the past, when short run rates are higher than long run rates, we say the curve is inverted). This statistic does indeed have a good track record, with the five recessions prior to the COVID-19 pandemic all preceded by a negative yield curve. Hence, in July 2022 when the yield curve went negative, many forecasters viewed a recession as fait accompli. Yet, as always, conflating correlation with causation is liable to lead to bad calls.
Beacon Economics noted the inverted yield curve last year, but we did not view it as sufficient or even necessary evidence to predict an economic downturn (We can proudly state that the only two times Beacon Economics has predicted a recession was back in 2006 at the firm's inception – I left the UCLA Anderson Forecast in 2006 to found Beacon in large part because I thought the real estate bubble would cause a recession upon its collapse, a point of view not welcomed by the UCLA Forecast's director – and in March 2020 when it became obvious the pandemic had spread globally). More broadly, we do not believe that there is any recession-predicting "magic bullet" to be found in the data—yield curve or otherwise. To understand our view, start with the recognition that recessions are created by rapid changes in the structure of aggregate demand in an economy. The speed of change is faster than factors of production can be redeployed within that economy. The net result is an overall decline in output and an increase in slack resources—a recession. From this vantage point, predicting a recession means predicting the rapid change in aggregate demand. The key to understanding why there is no clear set of recession leading indicators is recognizing that the sources of recessions are highly varied.
Not unlike Tolstoy's happy and unhappy families, while every expansion is similar to previous ones (this is the reason VAR models are good at predicting trends), every recession is liable to be significantly different from previous ones. There is a broad range of potential causes behind a rapid change in aggregate demand, from various forms of financial bubbles that will eventually pop, to bad government policy choices, to truly random events like global pandemics. Each type of recession driver has its own specific set of leading indicators compared to others. Add the additional facet that people are unlikely to make the same set of bad decisions that led to some economic calamity in the past, making it even less likely that two recessions will have similar leading statistical patterns (This is a version of the Lucas critique, which says once we make a big mistake we are unlikely to do it again, as we should have learned better. This implies that, statistically, the chance of back-to-back recessions looking the same is less than pure probability would suggest). Thus, relying on simplistic indicators will inevitably lead forecasters astray.
To appreciate this issue in the extreme, consider a situation where there can be no true leading indicators. In March 2020 when COVID-19 was spreading rapidly through the United States, it became clear that governments would be enacting strict public health measures to control the spread of the malady, and that these efforts were going to close a large portion of the service sector. It was pretty obvious that the U.S. economy was going to experience a recession, since this is exactly the type of rapid change in aggregate demand that drives recessions. But given the sheer randomness of the emergence of viral pandemics, there simply can be no economic leading indicator.
Of course, most recessions don't begin so arbitrarily. In 2006 Beacon Economics was the first West Coast forecast to predict what eventually became known as the 'Great Recession', a destructive downturn that started in the 1st quarter of 2008. The roots of that recession were manmade in the form of a massive subprime consumer lending surge that started in 2003 and vastly overheated both the housing market and consumer spending. By 2006 it was clear that these imbalances had moved way past the point of no return and the economy would necessarily experience a recession—driven by rapid declines in the housing supply and consumer spending—once the sub-prime bubble inevitably collapsed in on itself. The imbalances were the leading indicators. Yet, we know that these imbalances were different than the ones that led to the tech downturn in 2000 (a stock market bubble combined with excessive business investment) or the 1991 downturn, which was driven by excesses in bank lending and commercial investments.
What all three of these recessions did have in common was the inverted yield curve, including in 2006 when Beacon Economics made its early call of the Great Recession. Ironically, at that time forecasters were more skeptical of this statistical bad omen. One article written at the time from U-Penn, home of the legendary WEFA model, stated that the inverted yield curve "… gave shudders to those who see the phenomenon as a harbinger of recession. And yet, the U.S. economy is strong, and surveys show most forecasters think it will stay that way." In the first half of 2007 the Wall Street Journal recession probability survey was running 25%, as opposed to the 60% level during the first half of 2023.
Perhaps it was their bad call in 2006/7 that made more forecasters believe the yield curve indicator. Why hasn't it worked for the current recession predictions? Inverted yield curves are primarily generated by the Fed's choice to push up short-term interest rates. Back in 2006, short-run rates were pushed higher because the Fed was worried about consumer lending and the housing market. In the 2000 downturn in it was because the Fed was worried about the tech stock bubble. In these cases, the inverted yield curve can be thought of as nothing more than skid marks up to the edge of a cliff, created by a driver who realizes, belatedly, of the approaching danger. In contrast, in 2022, short-run rates were raised because the Fed was worried about inflation. But inflation by itself has never caused a recession. And as for the rest of the U.S. economy, there are no major imbalances as there were in 2006 or 2000. The link between the inverted yield curve and a true recession-causing imbalance in the economy wasn't there this time.
But there is a deeper issue at play. The types of imbalances that ultimately end up collapsing, and cause recessions, are typically driven by narratives that, at least in hindsight, are clearly false. The tech bubble was driven by the "New Economy" narrative, while the Great Recession was driven by Wall Street's magical alchemy that pretended to convert subprime debt into safe investments. Nobel Prize winning economist Robert Shiller notes in his book Irrational Exuberance "[h]ow errors of human judgment can infect even the smartest people, thanks to overconfidence, lack of attention to details, and excessive trust in the judgments of others, stemming from a failure to understand that others are not making independent judgments but are themselves following still others—the blind leading the blind."
The fact is forecasters are human and just as likely as anyone to be swept up in a collective madness of broken narratives. William Bernstein, in his recent book The Delusions of Crowds, writes that the author of one of the earliest analyses of recession-causing bubbles, Charles Mackay, largely failed to recognize the bubble he was living in while writing his book. Mackay's missive, Extraordinary Popular Delusions and The Madness of Crowds, was first issued in 1841 and examined the South Sea and Mississippi bubbles that had rocked the British and French two decades prior. Yet, he failed to see the crazed trading surrounding railroads that ended up causing massive damage to the British economy in the Panic of 1847.
One could suggest that if a narrative can actually cause a recession, it has to have the capacity to sway forecasters. But such a claim may be justifiably called self-aggrandizing, as it relies on forecasters actually having social and political clout. But, given what we have suggested above, this may well be by definition. In such a world, we have to rely on Warren Buffet's famous line to be "fearful when others are greedy, and greedy when others are fearful."
Ultimately, recession forecasts can only be created through a complex interaction of theory and data to identify when and where economic trends become so disengaged from normality as to ensure a recession when the process does eventually begin. Of course, such a determination is full of nuance and subtlety. Beacon Economics made the right call in 2006 because the signs of excess were, at least in our estimation, glaring. We made the right call in 2022 because there were few signs of such excess. We haven't yet been tested by a less obvious situation. As the disclaimer goes, past results are no guarantee of future returns! Forecasting truly is an art. But I still believe we have a leg up by always keeping in mind not just what the data can tell us, but also what it can't.
Thriving Without the Status: Local Small Business Owner Shares his Journey as an Undocumented Entrepreneur
By Jessica Anguiano, Southern California Outreach Manager at Small Business Majority and Content Contributor at IEBJ
Alfonso Garcia De Alba Rubio is a proud Mexican national and mechanic business owner in Fontana. His undocu-hustle journey began after he moved to the United States in 2006, with nothing more than a dream, skills in the auto mechanic industry, and a strong work ethic.
His story of perseverance, hard work, dedication, and determination is worthy of admiration. Alfonso is one of California's estimated 1.1 million undocumented individuals who participates in the workforce. He carved out his career in mechanics and car transmissions and started from the bottom up–literally and figuratively. His business started out of a restroom, but he quickly recognized a gap in the market for his services. His customers encouraged him to start his undocu-hustle, a practice that motivates and inspires new entrepreneurs to launch their businesses despite not having legal immigration status. 
He shares, "Eventually, I was able to rent a garage space that catapulted my budding business, even if it came at a high cost." In fact, half of his revenue went toward covering rent expenses at the garage. But just three years later, Alfonso managed to save enough money to start his own shop, where he felt a new sense of economic independence that allowed him to expand his business. Although he encountered challenges in obtaining the necessary paperwork to launch a legitimate business, he persevered and continued on his entrepreneurial path.
Like many other entrepreneurs, Alfonso operated his business through sheer determination and hard work. Despite not being able to qualify for emergency funding or state and government assistance at the height of the pandemic, he has managed to keep his business afloat and continue employing people in his community. 
He says, "Regardless of what some might say, I am here to create opportunities and not take jobs." Immigrant entrepreneurs have continued to encounter myriad challenges in their journey to business ownership, and access to capital is one of their top challenges. But their contributions to our nation and our economy are what keep us thriving and innovating, and we are better for it.