Inland Empire Community Foundation Announces $589,500 to 40 Nonprofits from Community Impact Fund
Grants will be used to strengthen work that prioritizes diversity, equity and inclusion (DEI)
Inland Empire Community Foundation (IECF) announced that 40 nonprofits received $589,500 in grants through its Community Impact Fund, designed to support and expand the capacity and effectiveness of organizations working to advance racial, gender, and economic equity for residents in the Inland Empire.
In keeping with the Foundation's focus on grantmaking through an equity lens, grants from the Community Impact Fund will be used to strengthen work that prioritizes diversity, equity, and inclusion (DEI). Unrestricted grants between $5,000 and $20,000 were given for general operating costs and to support efforts that enable an organization to carry out its mission effectively. To be eligible for a grant, each organization had to demonstrate a commitment to practicing and institutionalizing diversity, equity and inclusion in governance, staffing, organization practices, and collaborative relationships.
The 2021/2022 Community Impact Fund grantees are:
A Coming Of Age Foster Family Agency
Academy for Grassroots Organizations
Assistance League of San Bernardino
Bear Valley Community Healthcare District Foundation
Bezerk Productions
Big Brothers Big Sisters of the Inland Empire
Boys & Girls Club Of The Hi-Desert
Boys & Girls Club of the San Gorgonio Pass
Breast Cancer Solutions
Brightest Star Inc.
Camp of Champions A & M, Inc.
Caravanserai Project
Cathedral City Senior Center
Child Advocates Of San Bernardino County
Consortium for Early Learning Services
Cove Communities Senior Association
Desert Rose Trauma Recovery
Empower You Edutainment
Faith in Action of San Gorgonio Pass
Feed My Flock Ministries
First Christian Church of Ontario, CA
First Tee-Coachella Valley
Fox Riverside Theater Foundation
Friends of the Desert Mountains
Garner Holt Foundation
Giving 365 Inc.
Gracious Heart Resource Family Agency
Inland Empire Community Collaborative, Inc.
Inland Equity Community Land Trust
Janet Goeske Foundation
Making Hope Happen Foundation
Mountain Counseling & Training, Inc.
Operation New Hope
Ophelia's Jump Productions
People's Collective for Environmental Justice
Positive Young People Inc.
The Arts Area
The Empowerment Center
The Hole in the Wall Inc.
Voices for Children
"So many of our students are first generation college graduates and the majority are BIPOC [Black, Indigenous, and people of color], but I saw a disparity in where the money was going," said John Machado, art history professor at Chaffey College and founder of The Arts Area, a CIF grantee. "What I was seeing was that a lot of these students were giving up on their dream."
The CIF grant will support arts programs that encourage diverse, equitable and inclusive arts opportunities. This includes Curious Publishing's BIPOC fund which will cover the costs of printing books for five artists.
Celia Cudiamat, Senior Vice President of Grants and Community Impact, said, "Practicing equity and inclusion requires commitment, diligence, intentionality, and patience over a sustained period of time. This is a joint, on-going journey for IECF as well and we look forward to learning from our grantees over the coming year."
IECF accepts competitive grant proposals from nonprofit organizations who work to make a difference in the lives of Riverside and San Bernardino County residents throughout the year. Nonprofits interested in applying in 2023 can check the IECF website for guidelines and giving periods.
The 2023 grant schedule and instructions on how to apply will be available in February 2023.
The CIF is funded by generous donations to IECF in support of unrestricted giving. The CIF allows IECF to respond to emerging needs and build the capacity of nonprofits in the IE. Individuals who wish to invest in the Community Impact Fund, or to a community cause or issue that is particularly meaningful to them, can contact IECF to see how their donation might make the biggest impact. For assistance, contact Brie Griset Smith, Senior Vice President of Charitable Giving at 951-241-7777, ext. 111.
Access Photos Here: https://photos.app.goo.gl/4HYNiRSinXkgLzpn9
San Manuel Orange County Golf Tournament Raises $425,000 for Five Tribal, Local & National Nonprofits
24
th
Annual Tournament Recognizes O.C. based Meals on Wheels and Radiant Futures Among Others 
The San Manuel Band of Mission Indians, Tribal leaders, business and community partners united for this year's annual golf tournament to raise $425,000 for tribal, local and national nonprofits, making it the largest year for funds raised at the annual event. The San Manuel Band of Mission Indians has donated more than $3 million to 50 nonprofit organizations as a result of its annual golf tournament. The tournament was the first Tribal event at Waldorf Astoria Monarch Beach Resort & Club since the San Manuel Band of Mission Indians acquired an interest in the property earlier this year. 
The annual event commenced on July 16 with a celebration and a check presentation of $85,0000 each to five inspiring tribal, local and national nonprofits. The following nonprofits were awarded: Lakota Waldorf School on the Pine Ridge Indian Reservation in southwestern South Dakota dedicated to providing an exemplary education to reservation students while incorporating their culture; Voices for Children which serves children in Riverside and San Diego County who are in foster care by providing court appointed special advocates; Citrus Counseling Services located in Redlands which provides mental health services at low or no cost; Radiant Futures of Orange County provides crisis support, services for survivors, and education to prevent domestic violence and human trafficking; and Meals on Wheels OC which provides programming to nourish the wellness of senior citizens in Orange County. 
San Manuel Band of Mission Indians Chairwoman, Lynn Valbuena, says she is moved by the community's commitment to providing a hand up to nonprofits that are dedicated to making a difference regionally and throughout Indian Country.
"Each year I stand in awe of the thoughtfulness and generosity of our sponsors and partners to continue San Manuel's mission of supporting organizations that are truly the boots on the ground for making our world a better place," said San Manuel Chairwoman, Lynn Valbuena. "These five nonprofits are improving the lives of so many Native Americans, as well as local communities, and we are proud to help. The tournament is one of the many ways San Manuel demonstrates its value of giving back." 
This year, golfers teed off on ocean-view golf courses at Pelican Hill Golf Club in Newport Beach and Waldorf Astoria Monarch Beach Golf Links in Dana Point from Monday, July 17 to Thursday, July 20. 
Presenting sponsors of the tournament included Imagine This and PENTA Building Group. Yaamava' Resort & Casino was also joined by its sports partners from the LA Dodgers, LAFC and the Anaheim Ducks.
Supporting nonprofit organizations is part of the Tribe's commitment to their Giving Pillar also known as "San Manuel Cares." For more information on San Manuel Care's Program, please visit: www.sanmanuelcares.org
City of San Bernardino Planning for the Revitalization of Its Downtown
The City of San Bernardino has proposed a set of initiatives, programs, and investments intended to revitalize its downtown area.
"When we transform our downtown, we transform San Bernardino." said Interim City Manager Charles McNeely. "And that time is now."
The Mayor and City Council were given a preview on June 30 of the initiatives planned to revitalize downtown. In the coming months, the City Council will be asked to approve many of the specific steps.
"Downtown San Bernardino is already a huge economic driver for our City," added McNeely. "It has the potential to bring many more jobs, much more housing, and significantly more economic activity than there currently is."
The downtown area accounts for only 1.4 percent of the city's population, but accounts for 19 percent of the city's jobs.
"To build upon the opportunities in downtown San Bernardino, the City has assembled a set of proposals that will take advantage of San Bernardino's strengths," said Economic Development Manager Amanda Hernandez. "Some are best practices; some are specific to San Bernardino. Collectively, they will make a tremendous impact."
Among the proposals are:
Partnering with the Cal State San Bernardino Inland Empire Center for Entrepreneurship (IECE) to create an Entrepreneurial Resource Center to offer programs and counseling to existing and startup businesses. Since its inception, IECE has counseled and trained nearly 150,000 existing and aspiring entrepreneurs, small business owners, and students.
Evaluating the feasibility of using Court Street between D and E Streets as a pedestrian corridor to hold farmers markets, arts, culture, and food fairs, and other special events.
Partnering with downtown businesses and property owners to create a downtown property and business improvement district (PBID).
Working with Cal State, San Bernardino to develop a downtown satellite campus for select programs.
Authorizing the San Bernardino Police Department to hire additional officers to create a permanent downtown quality of life team to address safety issues specific to the downtown area. This would build upon a successful pilot project launched earlier this year downtown.
Working to revitalize City-owned property, including the Regal Cinema Plaza, the Convention Center, San Manuel Stadium – home of the 66ers, E Street retail sites, and the former Woolworth Building.
Conducting a preliminary Engineering and Space Study Plan to determine the next steps for San Bernardino's City Hall.
Starting a $2.5 million renovation to the historic California Theater.
Adding additional economic development staff to focus on the attraction, retention, and expansion of businesses, housing, and employment.
Contracting with a real estate brokerage firm to market city-owned property.
Developing an economic development action plan to build upon recent planning efforts such as the downtown specific plan and investment playbook.
Launching a façade improvement program to enhance and upgrade building exteriors along key commercial corridors.
Developing a revolving loan program to provide emergency and ongoing financing to small businesses.
Exploring the creation of additional downtown special events to build upon the success of the Miracle on Court Street, Route 66 Rendezvous, Arts Fest, and Vegan Fest.
Some steps to revitalize downtown San Bernardino are already underway. In recent months, the City has:
Created a $3 million small business and non-profit grant program. The program, in partnership with the Small Business Development Center, awards grants between $10,000 and $35,000 to qualifying small businesses and non-profits who receive training on how to sustain and grow their business. A second round of funding will be available in the coming months.
Began a proactive review of downtown properties to ensure that owners maintain the physical appearance and condition of their properties. This is a result of recent Council actions to expand the size of the Code Enforcement department.
Investing $9 million into the refurbishment of Seccombe Lake Park. Conceptual plans were presented to the City Council on July 19.
"We are already seeing increased investment in downtown San Bernardino," added Hernandez. "Entrepreneurs, investors recognize that the transformation is underway." 
Last year, the San Bernardino County Board of Supervisors voted to consolidate and expand its footprint in downtown San Bernardino with the creation of a 307,000 square foot government center. This project will bring more employees to downtown San Bernardino and create additional demand for downtown business and housing options.
Several new restaurants are under construction on 5th street. This includes a second downtown Starbucks location, a Del Taco, and a Chipotle. In addition, the Planning Commission recently approved the expansion of the In-N-Out Burger and the construction of a Sonic restaurant.
Investors recently purchased the historic Heritage Building on Court Street with the intention of renovating the building and opening a new restaurant.
The owners of 330 D Street where Chase Bank is located recently created the shared workspace Studio D. Among its tenants are the Inland Empire Regional Chamber of Commerce and Music Changing Lives.
One of the biggest economic opportunities remains the 42-acre Carousel Mall property. Currently, the mall is being demolished, with planning underway to build the infrastructure needed to re-develop the property. Ultimately, the City will seek a private partner to develop the site with new housing and commercial development.
Magical Animatronic Encounter at Loma Linda University Children's Hospital by Garner Holt Foundation
Garner Holt Foundation brings magical encounter with animatronics to Loma Linda University Children's Hospital
July 14, 2023  – Loma Linda University Children's Hospital patients and their families had a chance to see, look, and feel a variety of animatronic creations up close on Wednesday, July 12.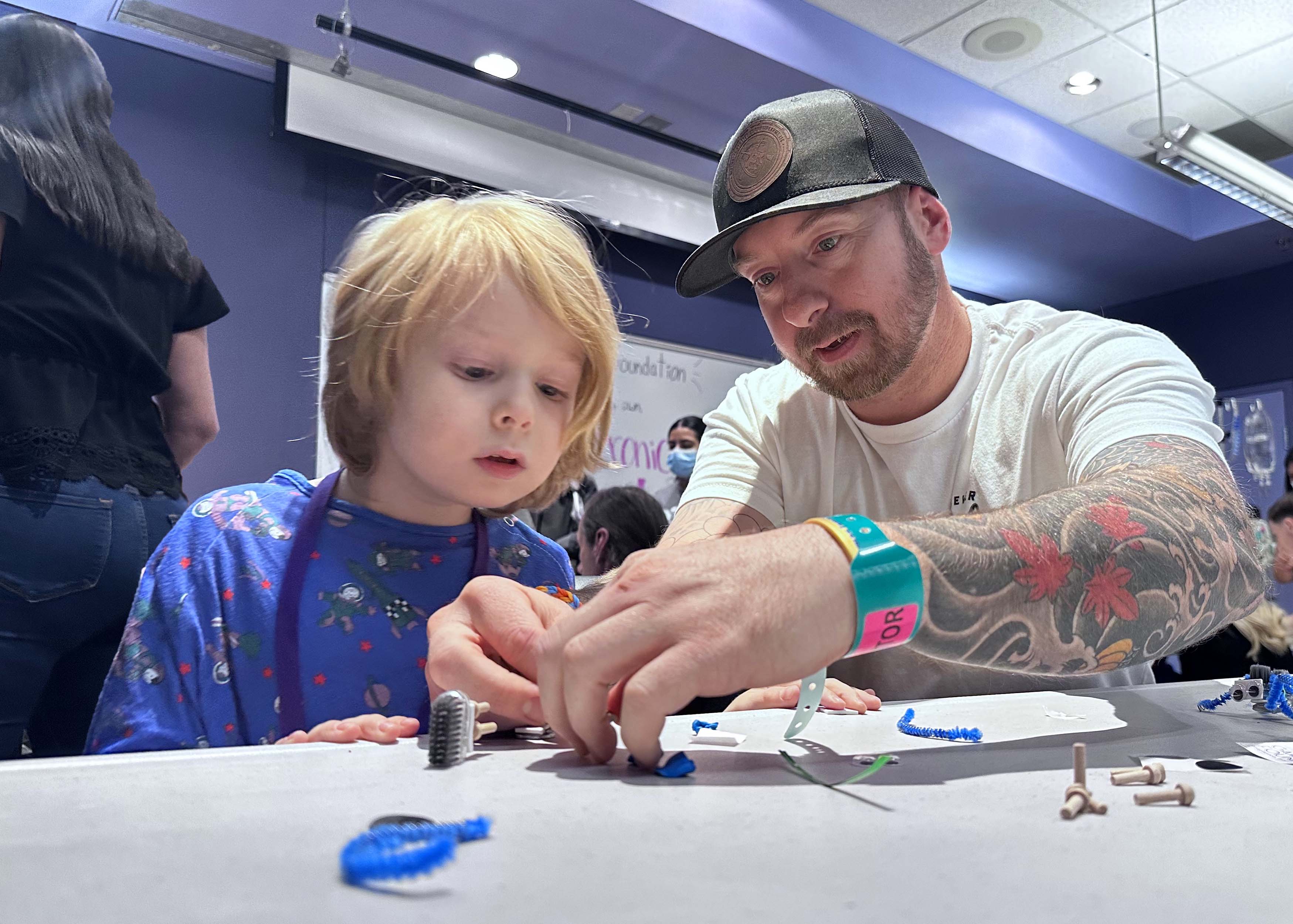 The Garner Holt Foundation, recognized for its work in designing and manufacturing animatronics for major clients like Disneyland and Universal Studios, transformed a room in the hospital into an interactive space. Garner Holt, founder and president of Garner Holt Productions, Inc., was present at the event, bringing along two animatronic birds that brought joy and wonder to the young patients.
"It's a great thrill for us," says Holt. "The Garner Holt Foundation was created to work with underserved kids, foster kids, and kids in hospitals, and it warms my heart to bring the excitement that kids see in theme parks and bring our world to them."
One of the highlights of the visit was a STEAM workshop, allowing families to unleash their creativity by building a robotic creature called a BrushTronic Bug. There was also a video showcasing the intricate process of creating animatronics, allowing viewers to gain a deeper understanding and appreciation for the artistry and engineering behind these remarkable creations.
The Garner Holt Foundation's visit to Children's Hospital held significant meaning for one family. Michael Burke, 18, is a former Children's Hospital patient who was diagnosed with synovial sarcoma, a rare form of soft tissue cancer, at the age of 17. He underwent a year-long medical journey, which included surgery, chemotherapy, and radiation. Michael is now in remission and joined his parents on the Garner Holt Productions team as a tour guide.
During the visit, he expressed his gratitude for the opportunity to give back to Children's Hospital and share the magic of his workplace.
"I think the biggest thing I want to do is inspire kids going through the same thing as I was," said Burke. "Keep a positive attitude and keep smiling, no matter how difficult the journey may be."
The event highlights the resilience and strength of young cancer survivors like Michael, as well as the compassion and collaboration between healthcare professionals and community partners who go above and beyond to make a difference in the lives of their patients and create uplifting experiences for young patients.
"Being in the hospital can be one of the more challenging times," said Peter Baker, senior vice president and administrator at Loma Linda University Children's Health. "It's really amazing to see the reaction on the patient's face, what today means, the partnerships around child care, and bringing joy and happiness to our kids."